Mobile Disc Jockey Service Since 1990
Serving Fergus, Elora, Belwood, Orangeville, Guelph, Arthur, Mount Forest, Kitchener, Waterloo and Area.

Specializing In...
Weddings, Stag & Does, Stag Parties, Picnics, Sporting Events, Banquets, House Parties, Seminars, Corporate Functions, Dances, Outdoor & Indoor Functions, Baseball Tournaments and more!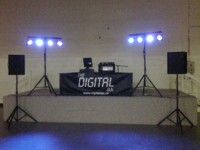 Disc Jockey Service
Our experienced DJs will take the worry out of the entertainment portion of your event. They will select the perfect mix of music genres and know how to choose the perfect volume level. And they love to take requests! We only use professional equipment make sure that everything runs smoothly.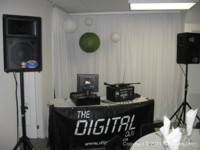 D.I.Y.D.J. Rentals
For smaller functions, or those on a budget, we now offer a Do It Yourself Disc Jockey rental package. You get the same equipment that our professional DJs use, and you can run it yourself! Plus, you get the equipment for the entire weekend for one low pice!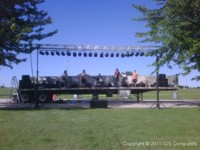 Live Sound Reinforcement
We can also provide sound reinforcement for bands, corporate events and theatrical performances. We have equipment for rent, and can even provide the audio technician. Since we are also DJs, we can provide background and intermission music at no additional cost!